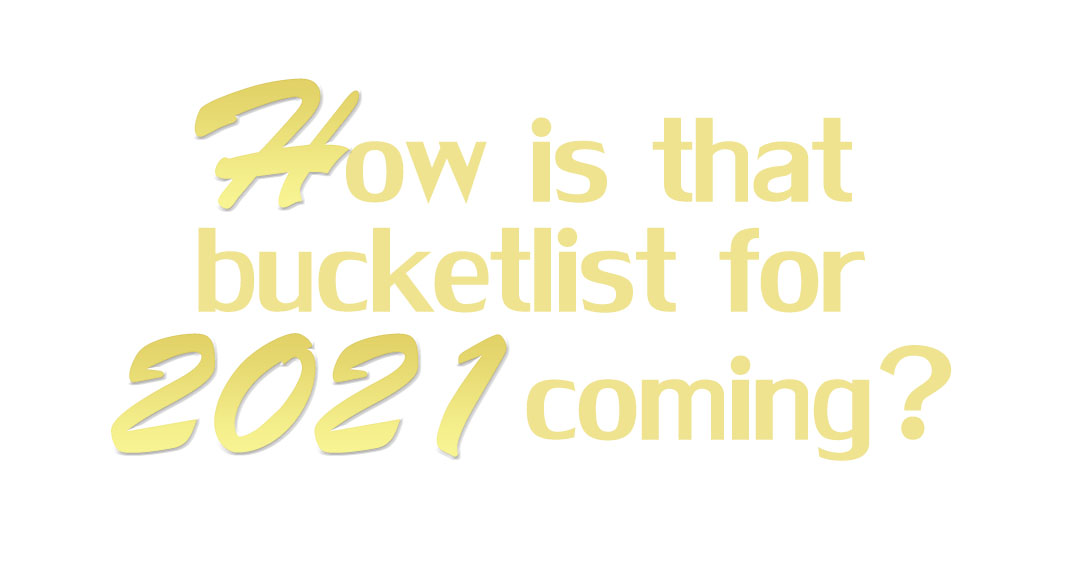 How's that buckelist coming?
I have been trying to figure out how to write a bucketlist for the coming travel season, whenever that might start, and however that might look… We don't really know when we'll be able to travel safely again, so it's hard to give some kind of prediction for when we might get back out there. And I don't want to be unsafe, so I will not rush it at all, but a girl can still dream, right?
I am thinking that maybe it's for the best to stay within the closer areas of Sweden, and maybe go by bus or train to some of the closer countries that I actually have not visited yet. I know, shame on me! Some of them I have been to before though, like the Swedish cities I am mentioning below, but I would not mind visiting them again since it's been quite a few years ago.
Here are my bucketlistworthy destinations for 2021, in two versions… the closer one that's reachable with trains, busses, or boats, and the one with destinations further away but that might still be within reach. I haven't really allowed myself to go all-in this year, so this list is a bit skimmed down for all obvious reasons. I am thinking that we're most likely to stay within Sweden, but if we're lucky enough, then maybe – just maybe, we'll have a small window for traveling abroad.
Malmö in Sweden, by train.
Copenhagen in Denmark, by train.
Gotland in Sweden, by boat.
Tallinn in Estonia by boat.
Riga in Latvia by boat.
Gothenburg in Sweden, by train.
Oslo in Norway, by train.
Paris in France.
Lisbon in Portugal.
Edinburgh and Glasgow in Scotland.
Vilnius in Lithuania.
We did bucketlists for 2019 and 2020, check them out if you want some more inspiration on where to travel. And looking back at the older bucketlists we have shared with you, I can see that Paris is on our list for the third year in a row, and so are Copenhagen and Edinburgh. I know we've been to Edinburgh several times, but seeing as a bucketlist is a list of goals, dreams, and aspirations, then Edinburgh can never be crossed off no matter how many times we visit, it's just my dream destination. It's the one place I think of as the first place I am going to visit as soon as the world opens up and it's safe enough to travel again. And for this year's Edinburgh trip, I am thinking it's in combination with Glasgow, so there's a small difference. But I should really start planning the trips to Paris and Copenhagen right, it's been a long time coming and I want to be able to have all my plans figured out when it's the right time to start booking the upcoming trips.
So what do you think, is it safe to start planning ahead or should we stick to just dreaming?
Last year came with a lot of cancellations and to be completely honest, we have already started the new year by canceling a few trips within Sweden, so I am having a bit of mixed emotion when it comes to starting planning ahead. But then, on the other hand, I don't really want to wait either… but let's stay on the bright side, the bucketlist is for 2021 does not seem to be all that far off, so that's a good thing, so maybe – just maybe we'll be able to check off some of the destinations.
//Ann