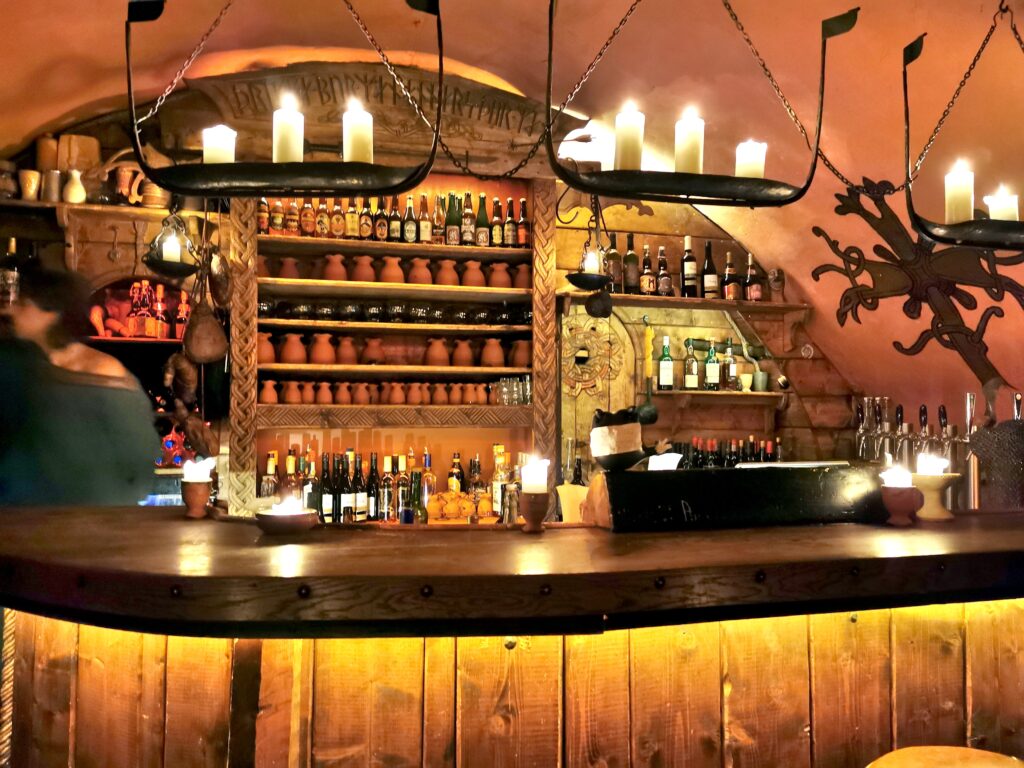 Aifur in old town Stockholm
So last week we visited this really cool restaurant in stockholm called Aifur, its kind of a feast hall in old part of town decorated in vikingstyle, with a separate bar area. I am gonna send out a warning right at the beginning of this post… there are a LOT om images, because this place is amazingly beautiful!
The images above are showing the entrance and the supercool headwaiter, who is so much more than a waiter. He's an entertainer of the highest quality.
First off we stepped into bararea as we were a bit early for our reservation. Lucky for us right? I mean, check out the images of the bar, its just supercozy. We stood there for a while trying to figure out mead to try out, when the bartender said "well, you could just ask the bartender, he might know something about it that could help you out…"
And oh yes he did, he had some really cool knowlage of what type of mead you might like based on what you usually prefer when it comes to drinks, both with or without alcohol.
Dont forget to look at the decor and details that are surrounding the bar, isn't it amazing?
Look at this diningarea with the superhigh valved ceiling. You see the picture of the smaller diningplace with the ladder, oh yes, you can actually be seated up there for you dinner.
Lets talk about the food please and the way it was servced. Haha try eating with a fork like that, it was an adventure for sure. For starters with shared a plate with saled and smoked cold cuts, and for the maincourse we had the roasted deer served with kind of a rootvegetable cake with a creamy mushroom sause and some lingonberry,
For dessert we had two differnt plates, one choklatepie filled with salted caramel served with grapefruitsorbet with fresh strawberries and one Nut and applecake with whipped cream.
As you have read, the food was amazing. But do you want to know the best part?
The enviroment, the candle light and the live music that was playing all night, combined with the superfriendly staff dressed in vikingoutfits and of course (again) the headvaiter.
So people, if you visit old town in Stockholm Sweden and dont stop by at Aifurs, you'll be missing out!
//Ann
Dont forget to join us on Facebook, Instagram and Pinterest for daily updates and more images.